You've seen them around the village in all seasons driving the Bobcat, stringing up holiday lights, or watering hanging flower baskets, sporting high-visibility orange sweatshirts or yellow jackets–that's right: our Village DPW crew. The Village DPW crew keeps the village clean, functioning, and beautiful. And it's fitting that Walk Bike Pittsford got to sit down with them to chat on Valentine's Day this year as we've got lots of love for the work they do to keep the village in working order.
We've had the chance to watch and chat with the crew while out walking or biking around the village, and maybe you have too. After this post, you'll know their names, so go ahead and introduce yourself and say hi when you see them around!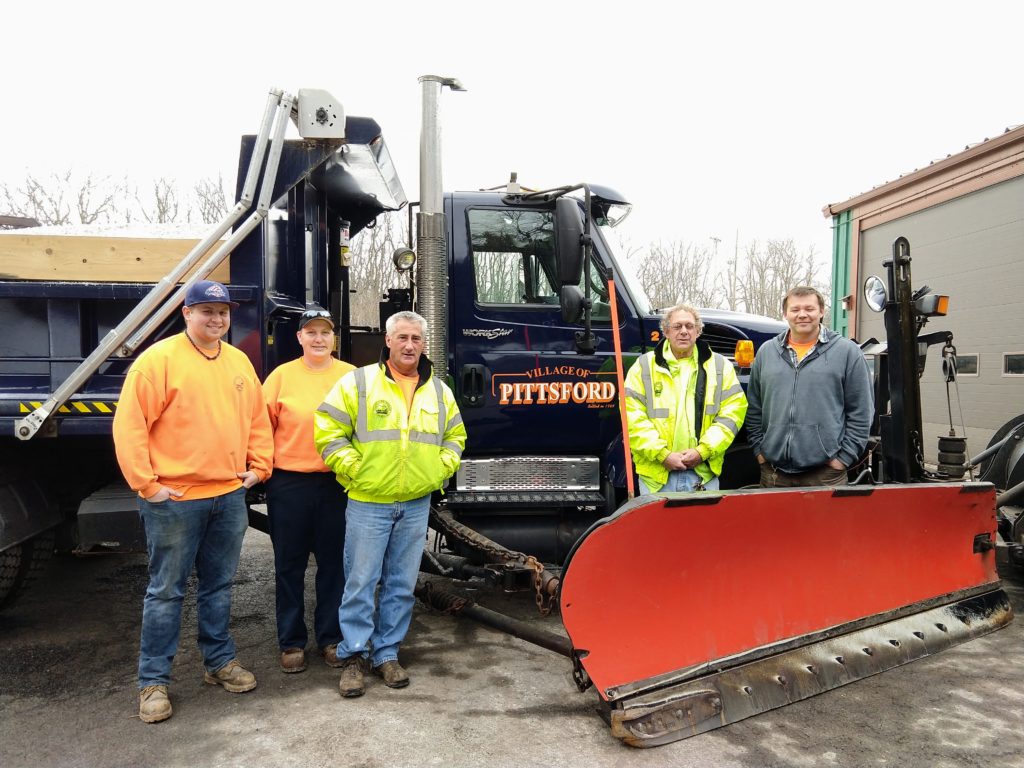 From left to right: Rich, Joan, Doug, Brad, and Zack (not pictured, seasonal employee Sophie)
Your team does a ton of work with a relatively small staff. Could you share a little about who makes up the Village DPW crew–names and roles?
It's hard to say just one role that each employee plays because we really do it all. Zack Bleier is the Superintendent of Public Works. Doug Yaeger is the crew leader and a motor equipment operator. Brad VanBortel is a motor equipment operator.  Joan ("Joanie") Rule is house mechanic. Richard Hook is a motor equipment operator. But we all help with everything. Sophie Bennett is a DPW part-time seasonal employee, so you'll see her around during certain times of the year.
Hands down, one of our favorite DPW services is sidewalk snow plowing. Often, the sidewalks are clear before we wake up (and we wake up early). It's something most jurisdictions don't do. Could you tell us how this came to pass and what goes into keeping sidewalks clear for people on foot?
Keeping sidewalks clear for people on foot has always been a priority for the Village, just as roads are kept clear for cars. Many places require a certain amount of snow before plowing, but it's always been like this since we've been working here.
We're deep into winter now. How do you coordinate with the Town on snow and other services?
The Town of Pittsford has a night watchman who calls us in during the night. We have agreements with the Town to clear some sections of sidewalk or road that fall under their jurisdiction but are closer to another route we are doing, but generally, the Town DPW clears the State/County roads (the big thoroughfares through the Village–Monroe, State, Main, Jefferson) and the Village DPW clears village side-streets and sidewalks.
Your team is responsible for the lovely hanging baskets on the main streets and along Schoen Place in the summer. And there's the herculean effort of keeping up with leaf and yard waste collection. What else is your crew tasked with that the public may not know about?
We're also responsible for maintaining both storm and sanitary sewers. We mow in the summer. And we maintain water retention ponds throughout the Village. An example of this near the Powers farm fields. We ensure they are functioning the way they were designed and upkeep them as needed.
Let's talk about the yellow "yield to pedestrian" signs. Your crew is often out there fixing them after they are hit. How frequently is this happening and how much do the signs cost? What can we do about it?
These signs cost about $350 each, but they are hit often and we need to "Frankenstein" together parts frequently, which can be costly and time-intensive. We'd say on average, one sign gets hit, dragged, or destroyed weekly. Joan actually pulled one out from under a car at the Four Corners the other day. It had been dragged a distance down the street and the driver wasn't aware it was under their car!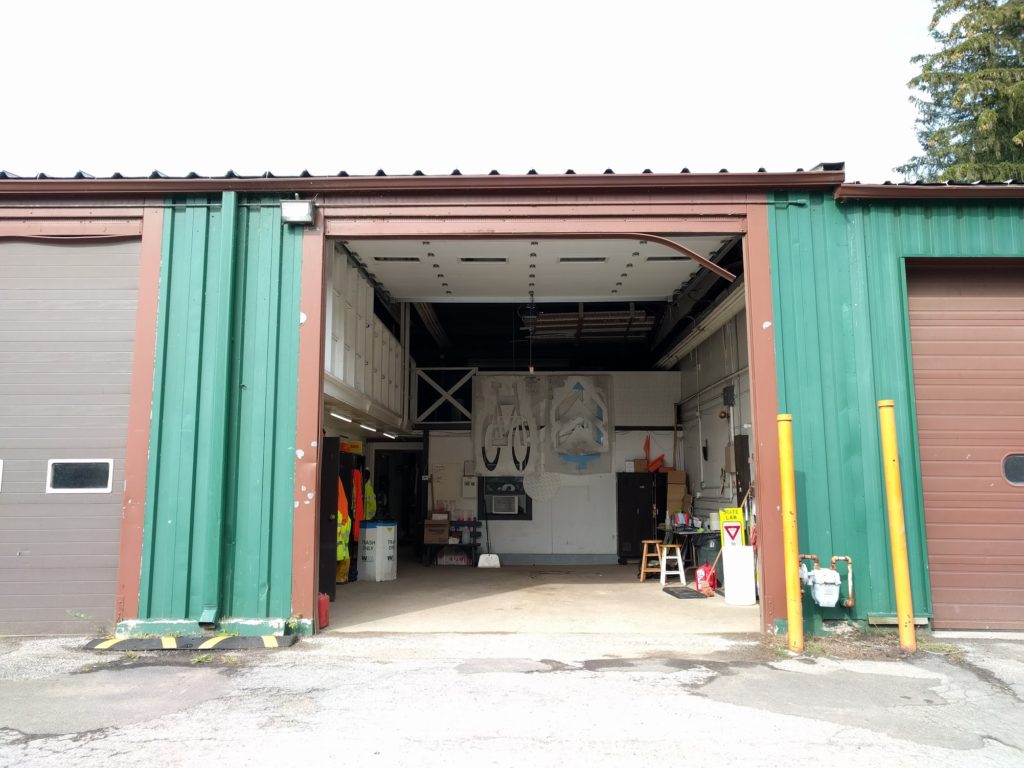 Image: Bike and Sharrow stencils in the DPW garage. You'll see these markings along Schoen Place. 
We've seen your team do a lot of work this past year on making crosswalks more visible, adding crosswalks to certain intersections in the village, and improving curb ramps. What's the best way for a resident to get in touch with the village with a suggestion or improvement needed?
The best way to to contact the Village DPW with a comment or suggestion is via the link on our website here.
Is there anything that you dream of happening in the village from a DPW standpoint–some infrastructure or policy change that would make the village even better or your jobs easier?
Picking up after dogs would help a lot! (laughter)
A reminder about no overnight parking in the Village from November 15 to April 1 from 2am to 6am would also help ensure streets are plowed fully overnight.
While you love the sidewalk plowing at Walk Bike Pittsford, we do get some complaints about lawns getting torn up. We have 7,000 lb equipment, and when the ground is thawed like it has been this winter, the soil is going to get marked and dug up from time to time. We always come through and regrade and reseed in the spring. We want people to know we aren't distracted or doing the plowing haphazardly, it just happens on some of our narrow sidewalks. We continue to work on widening sidewalks where desirable from 4 feet to 5 feet as construction projects and funding allow and adding/improving curb ramps.
What do you wish people reading this knew about you and your team?
Everything we do, we try to do our very best. We try to maintain everything in the Village to the best of our ability. We are a small department that covers a lot of ground. Patience from residents would be so appreciated because with so many projects going on at once sometimes it takes a little longer to get one thing done when we get pulled to do something else of a higher  priority.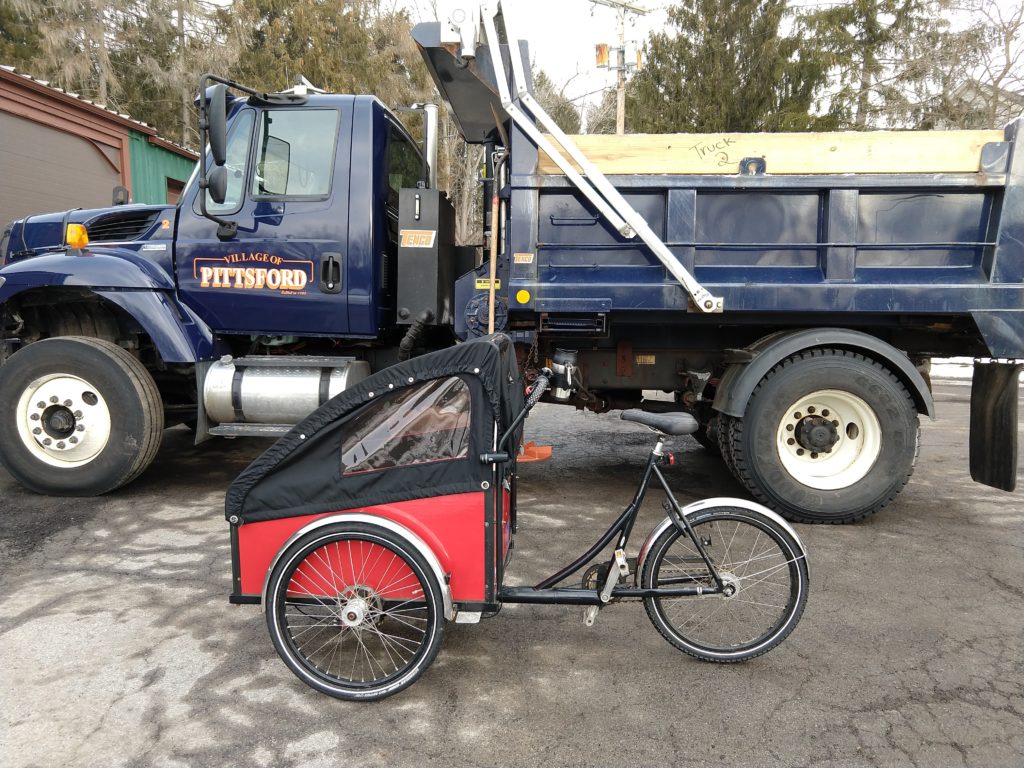 And finally, what's your favorite aspect of your work?
The satisfaction of hearing people say you do a good job. Some people come out and give you water, or lemonade, or a candy bar. They tell you that you are doing good work. It just feels good.
We'd like to thank the DPW crew for taking some time out of their day to talk with us and for the hard work they do every day to keep our village functioning. Thanks from Walk Bike Pittsford! 
Last but not least, for anyone with kids out there, the wee Walk Bike Pittsford kids love this book: The Village Garage by G. Brian Karas. It's available at the Pittsford Community Library in the "Things that Go" section. We took it out so many times that we finally bought a used one from Amazon. It has all the seasons and work that the crew around here does and reminds us a lot of our village.