Kidical Mass Pittsford wrapped up our 2017 season and here are the highlights:
7 rides!
114 riders!
52.3 miles!
We've met so many wonderful people in Pittsford and neighboring communities who bike for transportation and recreation, who support policies that faciliate biking around our communities, and who support this movement to raise awareness for safer streets for all ages and abilities of cyclists.
This season, we toured Pittsford's Little Free Libraries, biked to three playgrounds, had a sweet bike scavenger hunt, went bike camping, explored trails, learned about gaps in our biking infrastructure, ate cake and had a crazy good time.
Check out all our previous rides below and join Kidical Mass Pittsford to ride with us in the spring! All ages and abilities are welcome and with biking, the more the merrier. We hope to see you!
October 14, 2017 – Fall fun + potluck ride!
Our last ride of the season was an autumn-themed ride of foliage peeping and riding past cornfields, but we had summer-like temps and gorgeous late-afternoon golden sun shining on us–a lovely surprise and just the opposite weather from our October 2016 Kidical Mass Pittsford kick-off last year which was a cold 50 degrees with wind and rain. Yes, those are shorts and short-sleeves in mid-October in Rochester!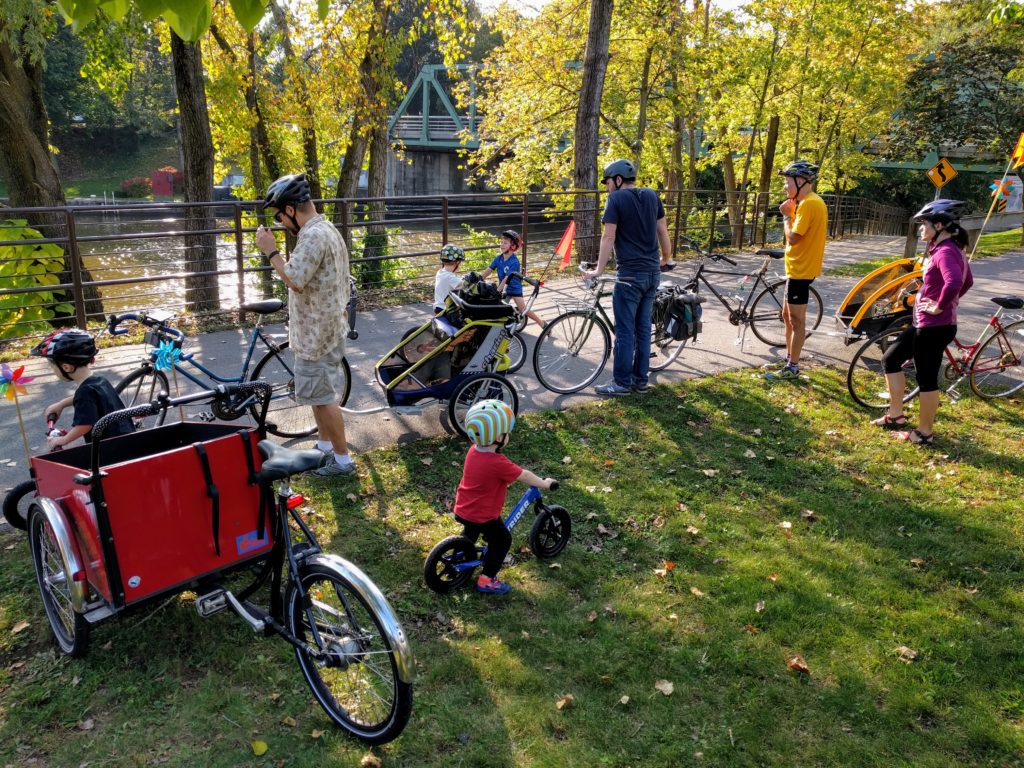 We started on the Erie Canal towpath to let the littlest riders haul around on their balance bikes, training wheels, and two-wheelers without having to navigate traffic. We found ramps and threw rocks in the canal.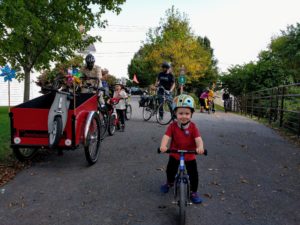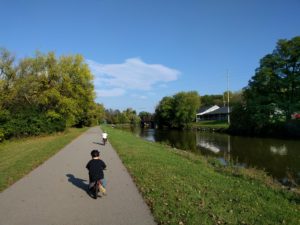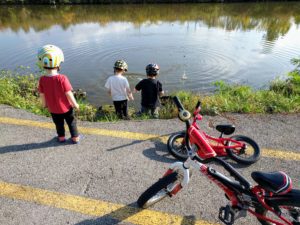 We headed out Highway 31 via sidewalk to the Highlands Trail where we did some more leaf looking, cruising alongside corn fields as tall as an elephant's eye, and even found a fairy hut or two.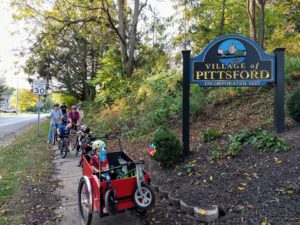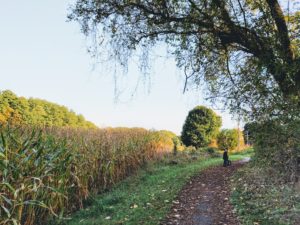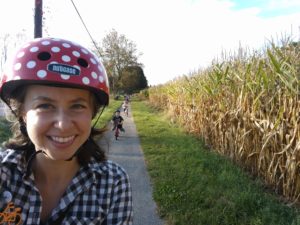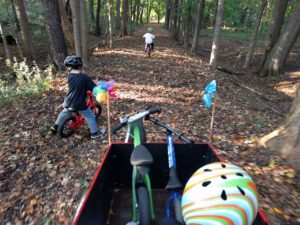 Nearing exhaustion, we headed to our potluck locale to refuel with some food and play in the yard. Kids decorated pumpkins, and some special paper plate awards were given out reminiscing about good times this season.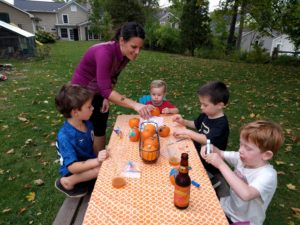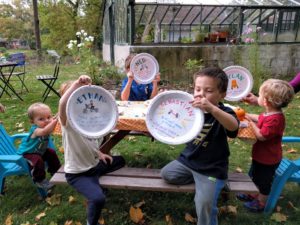 And we ate cake! Yummy, yummy Kidicial Mass cake!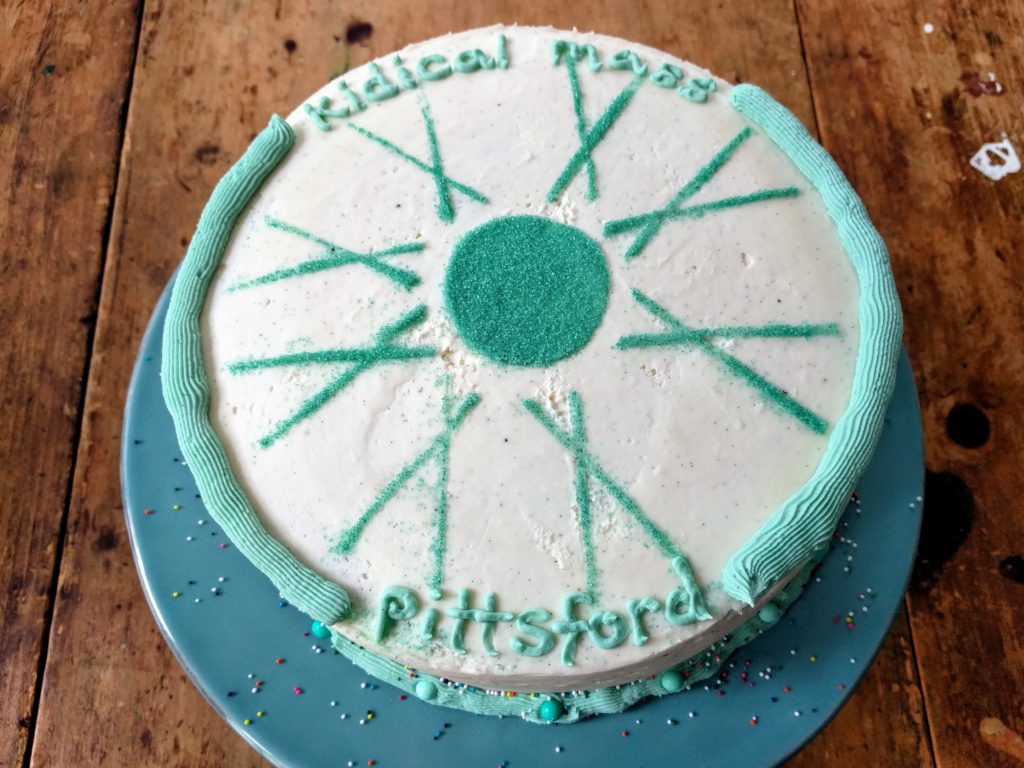 [It's supposed to be a bike wheel. Can you see it now?]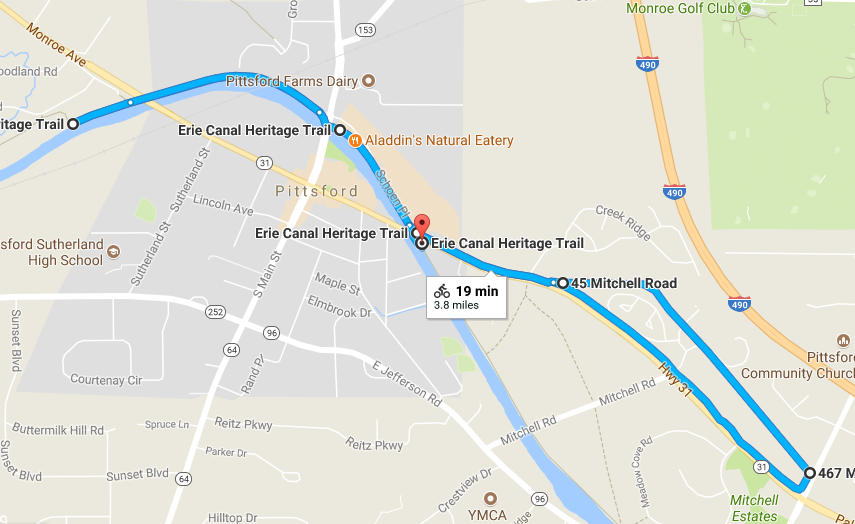 I've loved riding with you all. Thanks for making the spring/summer/fall extra fun for me. Hope to see everyone from this year again next year and lots of new faces too! Until 2018, happy trails to you and yours!
-Brooke
September 17, 2017 – Global KIDICAL MASSIVE + superhero ride!
We had a short but sweet September superhero ride through Brighton today with 24 energetic souls. Today's ride also coincided with the worldwide KIDICAL MASSIVE ride where thousands of families across the country–and in cities around the world–go on a bike ride together, enjoy the time spent outdoors with their friends and loved ones, and show that streets are for people and kids and people on bikes are traffic too, deserving of safety and respect on the road (from other road users and, ahem, road designers too).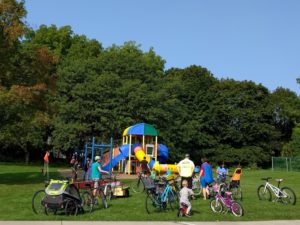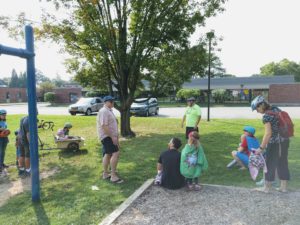 After a brief safety lesson about pedestrian, bicycle, and vehicle behavior and how a superhero might choose to cycle safely on the sidewalk (thanks Blair Hornbuckle, Cycling Savvy instructor) we cruised through the beautiful Brickyard Trail from the Brighton Public Library to Buckland Park for playground time, snacks, and kids ramp tricks (thanks Hillary and fam!). I loved seeing all the costumes!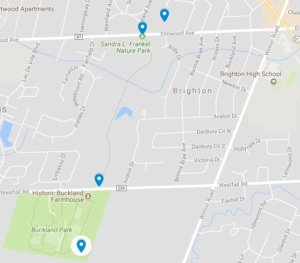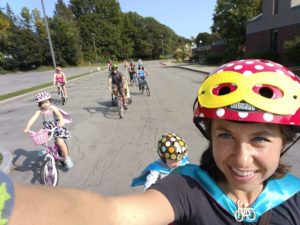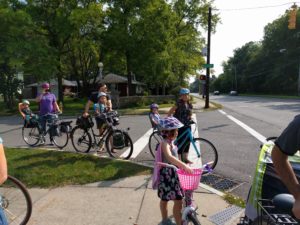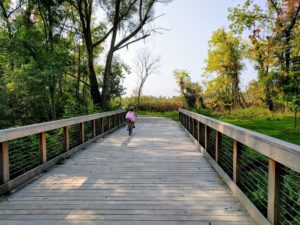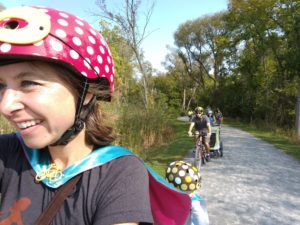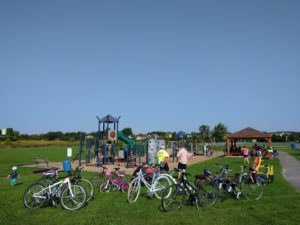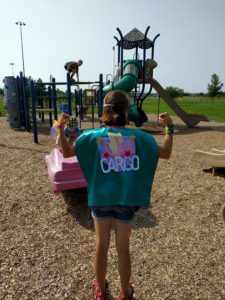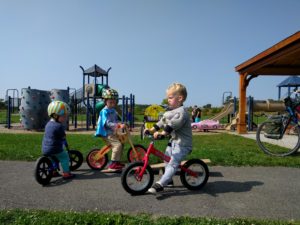 We have just one more planned ride this season in October, and we hope to see you there!
-Brooke, AKA The Cargo Crusader!
August 26-27, 2017 – Bike camping at Lock 30!

Eight adults and six kids made the 14.5 mile trek from Pittsford to Macedon for our very first (and MY very first) bike camping adventure! And it was epic. We lucked out again with the weather, having picked this weekend several weeks out, and we had highs in the low 70's with beautiful blue sky, and (gulp!) lows in the upper 40's at night (in August!). The cold temps at night made for mist rising off the canal in the morning–quite a spectacular sight to wake up to.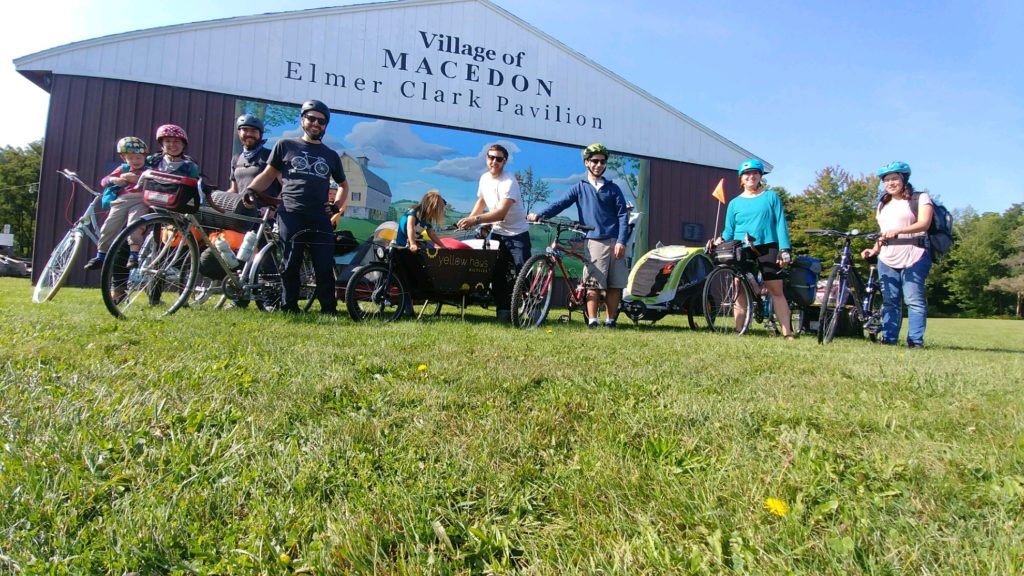 [Photo by Alex Wirth]
We set out in late afternoon, and stopped at Perinton Park playground (nearly midway between Pittsford and Macedon) to let the kiddos run around before hopping back on/in bikes.
Once back on our bikes, the ride out there did not disappoint. We passed through Fairport (right in the midst of Fairport Music Fest!) and through a neat community with houses right along the canal (beware potholes on the shared quiet road/canal path here though!). We ducked under cool bridges, rode alongside railroad tracks, and even saw an old tractor plowing a tiny tract of farmland right up against the towpath.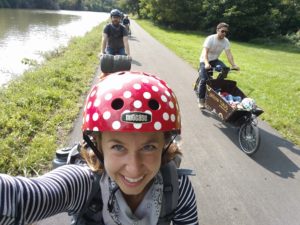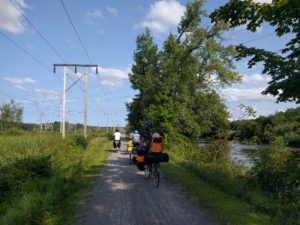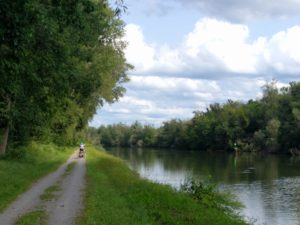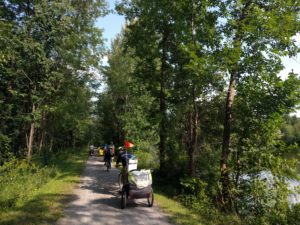 [Photos by Brooke]
And when we arrived at Lock 30 in Macedon, we got to walk across the lock with our bikes (how cool?!).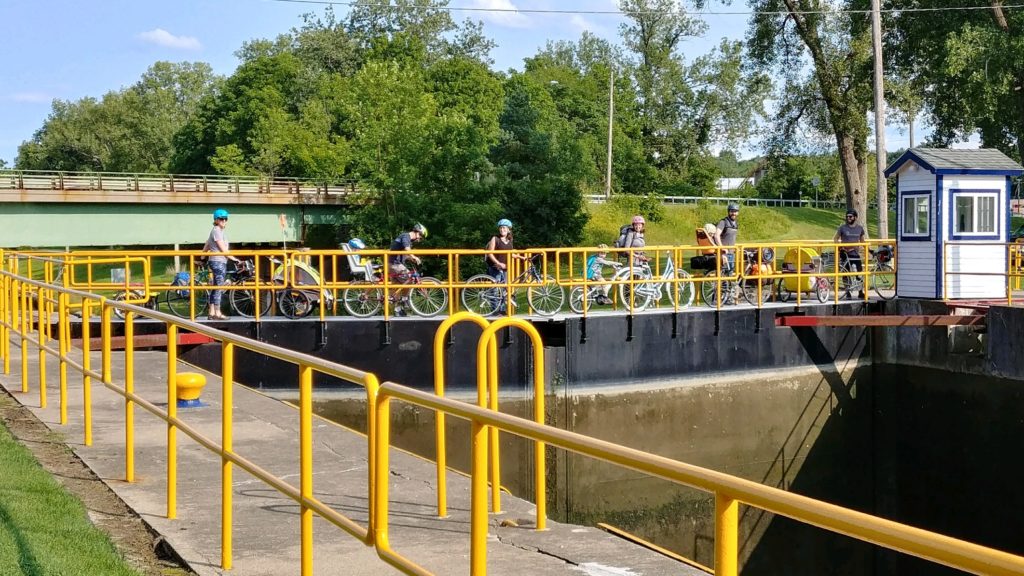 [Photo by Alex Wirth]
We set up camp, cooked dinner, went stick hunting to make s'mores, and the kids played on the small playground and checked out the Little Free Library for bedtime books. We went to bed after a lovely sunset over the canal and woke up to fog rolling over the canal until the morning sun warmed things up. (No need to mention train horns in the night, chilly noses while sleeping, or kids waking up in the wee hours of the morning, right? Nope, the rolling fog definitely erased those memories!) For those considering this trip, Lock 30 is appointed with a porta-potty and potable water via spigot.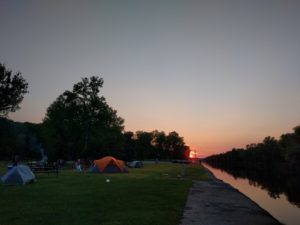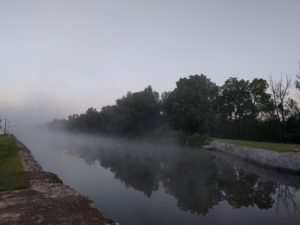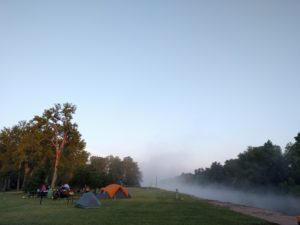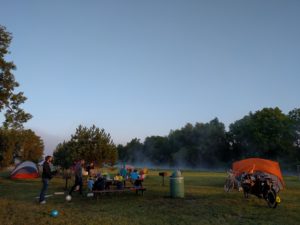 [Photos by Brooke]
After downing some pretty fancy camping breakfast foods–strawberry pancakes, hot breakfast sandwiches, and COFFEE!–we checked out the Butterfly Trail and got ready to return to Pittsford (and Rochester! We had some families who trekked even longer by bike to join this adventure).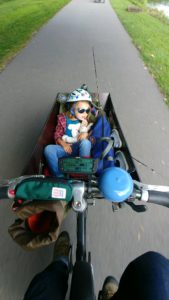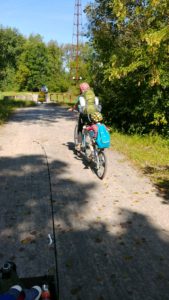 [Photos by Alex Wirth]
I had the most awesome time! I was really proud of all we hauled and the feeling of accomplishment and contented exhaustion that comes from hauling your own people, your own things, and getting somewhere by the power of your own body. Already dreaming of my next bikepacking adventure…
-Brooke
August 13, 2017 – Trail ride + scavenger hunt!
You couldn't have dreamed of August weather more lovely for a bike ride. Blue sky. Big puffy white clouds. Warm but not enough to make you sweat. Nineteen big, little, and in-between people joined on our epic trail ride and scavenger hunt!
On this ride, we checked out part of one of Pittsford's trails–the Auburn Trail. This is a small section of the larger Auburn Trail, and also part of the Pittsford/Brighton Railroad Loop trail.
The kind folks at Park Ave Bike Shop let us gather by their shop and use their parking lot before we hopped on the trail right around back. We had a motley crew of older kids and parents on their own two-wheelers, parents hauling their kids on child seats, trailing bikes, and bakfiets, and one tiny balance bike rider who did not quit!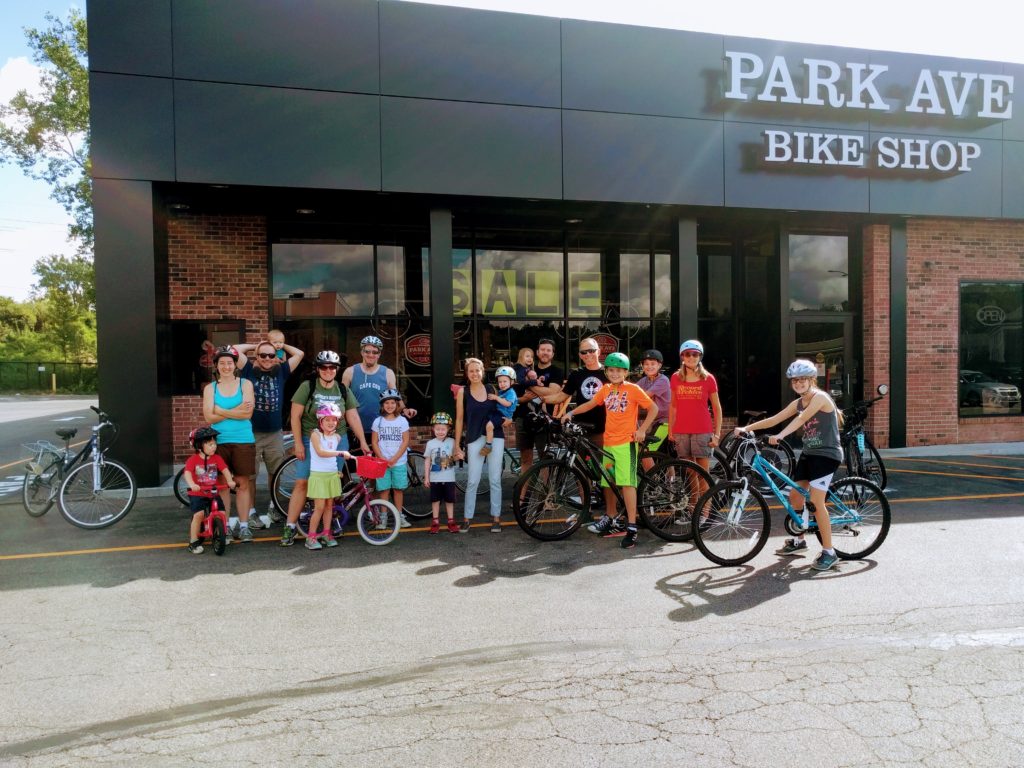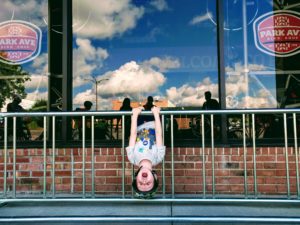 We pedaled along a lovely sun-dabbled trail from the Pittsford Plaza area to the Village of Pittsford, with just one road crossing, at French Road.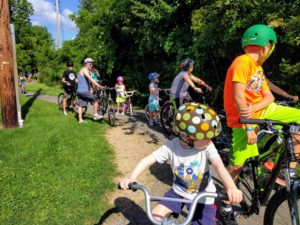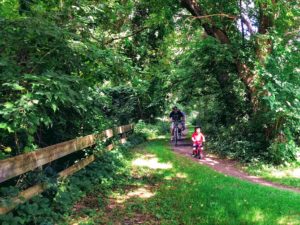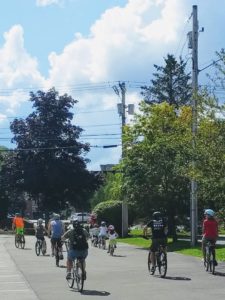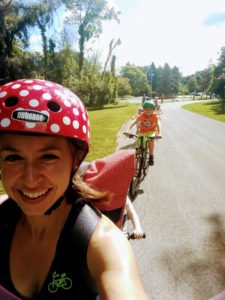 Once we reached the canal path, we paused to distribute the scavenger hunt, and man these teams brought their A Game! They found speed bumps, trains, animals, wooden-hulled boats, green bikes, sharrows, among many other items that we thought we were being tricky about when we planned it.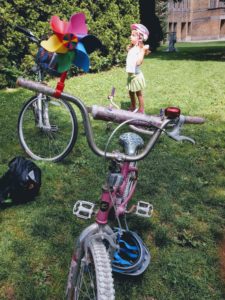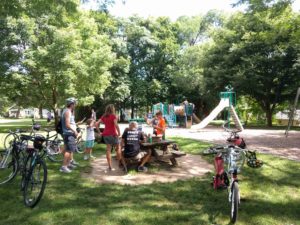 We reconvened at the Spiegel Community Center playground and with prizes doled out to the teams, we played on the playground, hung out, and enjoyed the delightful morning before parting ways for lunches, naps, or busy afternoons of weekend errands.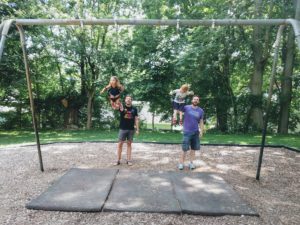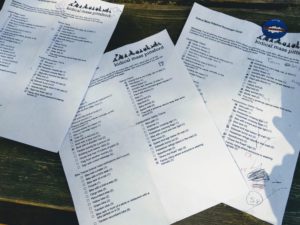 [Photos by Brooke]
I so enjoyed another beautiful bike ride with such awesome folks. My heart swells.
-Brooke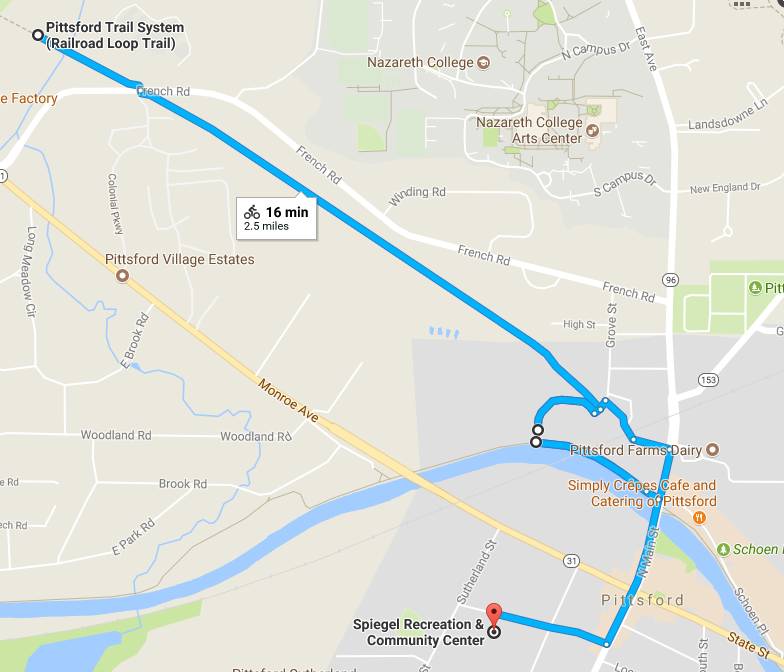 July 22, 2017 – ABCs of Family Biking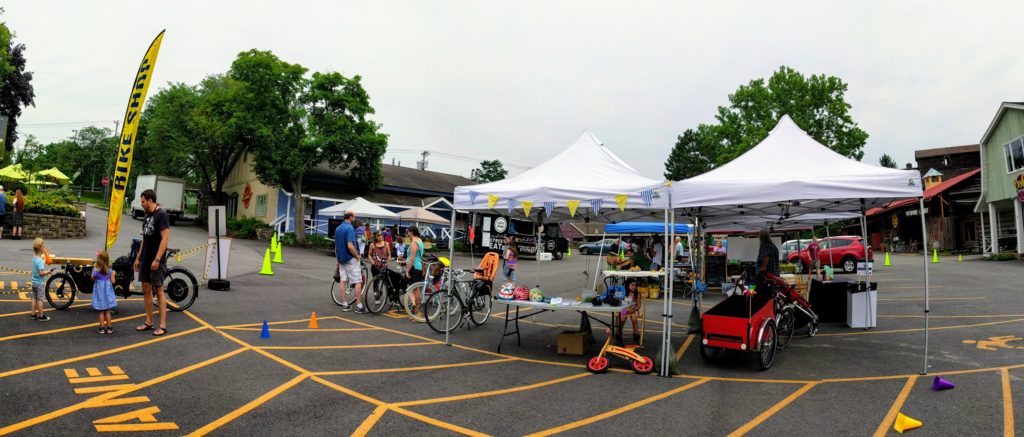 Ok, ok, so this wasn't a ride per se, but it was awesome so I'm including it. Kidical Mass Pittsford joined forces with Yellow Haus Bicycles at the Pittsford Village Community Farmers Market to host the ABCs of Family Biking. This event was geared towards people who are curious about biking with children but have questions about equipment, want to try out different styles of kid-hauling bikes, or are feeling a little cautious with their new precious cargo and want to chat with experienced family bikers. We chatted with folks from Pittsford and neighboring communities, people with kids and people without kids. Who doesn't love talking about and trying out cool bikes?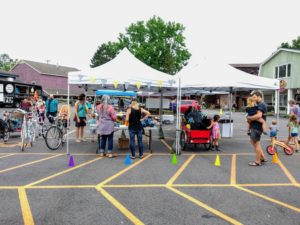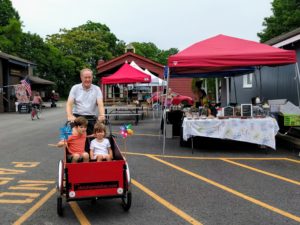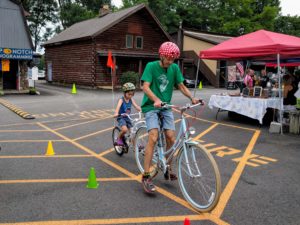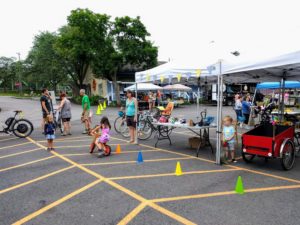 [Photos by Brooke]
We had a bakfiets, front-loading trike, bike trailer, trailing bike, front-mount and rear-mount kids seats, a balance bike, and e-assist bikes on hand for visitors to try–and try they did! I loved seeing so many happy adults and kiddos on and in bikes!
HUGE SHOUT-OUT to Alex (Yellow Haus) and Hillary (awesome bike gear sharing volunteer) for giving of your time, expertise, and gear and to Robert (Pittsford farmers market) for your generous support of this fun and educational event! And thanks everyone who stopped by to chat. Hope to see you out riding soon!
-Brooke
July 15, 2017 – Frozen custard + playground ride! 
Our July ride was a two-parter covering 3.5 miles one-way. We gathered at the eastern end of Schoen Place just as the gray all-day-threatening-rain clouds gave way to warm sun for our ride. So much for packing rain jackets and no sunscreen, whoops!
We cruised out of the village along the canal path to Abbott's Frozen Custard in Bushnell's Basin, where we took a short break to slurp deliciously melty frozen custard.
After everyone was sufficiently sugared up, we hopped back on our bikes for the short ride to Kreag Road playground. We slid, climbed, and swung before pedaling homeward, appetites whetted for dinner.
Come along for our next ride in August and join our Facebook group to stay up-to-date on all the Kidical Mass happenings!
-Brooke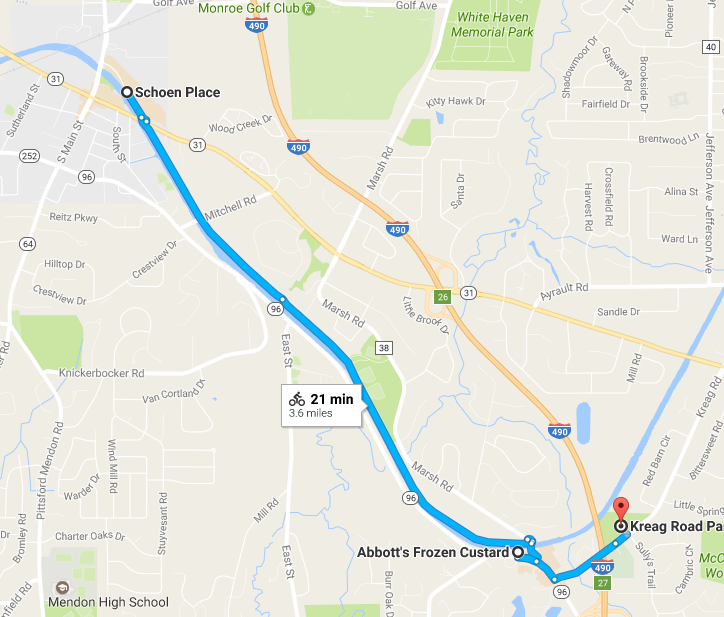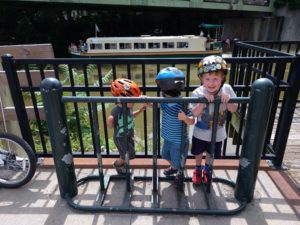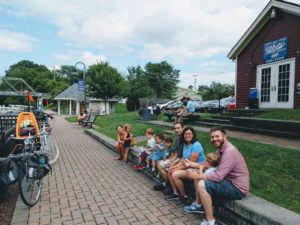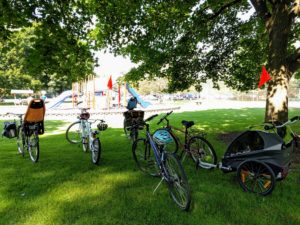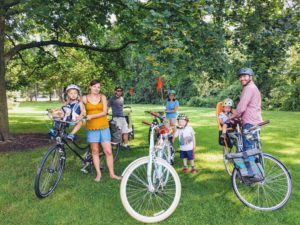 [Photos by Brooke]
June 11, 2017 – Little Free Library ride!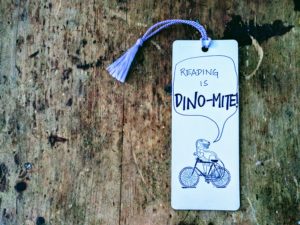 Bikes + kids…what could be better?
Bikes + kids + books!
It was a hot, hot, hot 90 degrees, but a hardy crowd biked to three of Pittsford's Little Free Libraries to drop off books and pick out new books to take home. One of the library stewards even came out to visit and share lemonade with our group (thanks Deb!).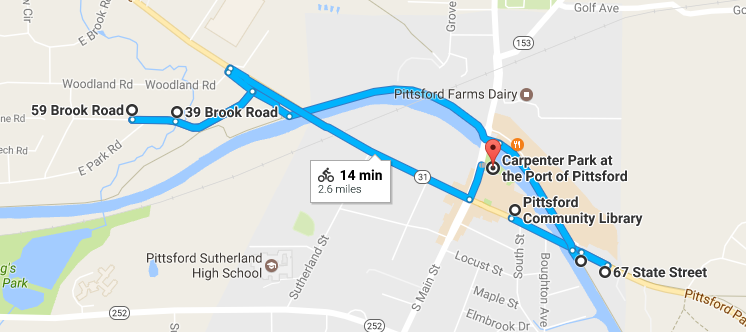 We are lucky to have a bunch of these little book exchanges throughout our neighborhoods. And our fantastic public Pittsford Community Library also supports these exchanges by donating their discards (books that aren't getting quite as much love anymore or unneeded duplicates). Here are a few of the LFLs we know of in Pittsford: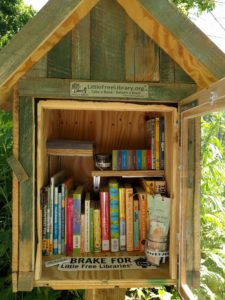 39 Brook Rd
59 Brook Rd
67 State St (accessible via canal towpath)
19 Cricket Hill Dr
25 Rosewood Dr
48 Mendon Center Rd
12 Trailwood Circle
They are fun little treasures to stumble upon. We didn't visit all of these on our ride because of time and distance, but maybe you'll think of them next time you have some books to pass along or you are out for a ride and looking for a little adventure, or a good book.
We ended our ride in Carpenter Park, thankful for Austin hauling a huge cooler of popsicles on his bike. With sticky popsicle hands, we relaxed in the shade of the pavilion, watching boats on the canal and making bookmarks to hold places in our new books.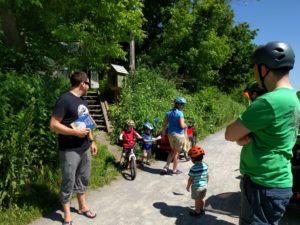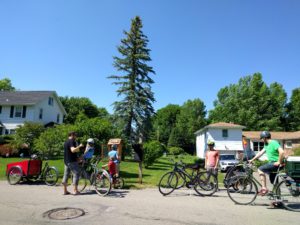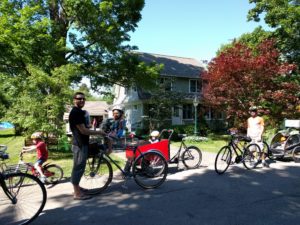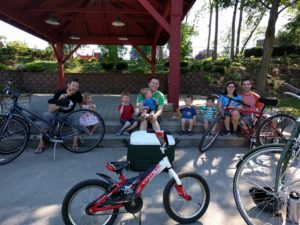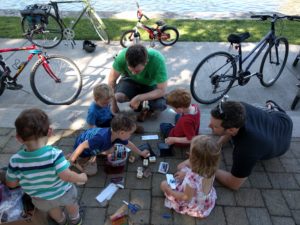 [Photos by Brooke]
Hope to see you on our next ride in July!  –Brooke
May 14, 2017 – Mother's Day ride!
Despite a dismal forecast, we had the most perfect of biking weather you could imagine–bright blue sky, warm but not hot, and sun, sun, sun. In Rochester! In early May!
We had 25 happy parent and kid riders–on everything from trailers to trail-a-bikes to box bikes to child seats to training wheels to their own two-wheelers. It was great fun to meet everyone and enjoy such a beautiful morning together!
We made a short 1.8 mile ride from Schoen Place in the Village of Pittsford to Lock 32 along the separated walking/biking Erie Canal towpath. No roads for us this time; we had a nice, slow ride easing into our season as we sailed through verdant sections of the towpath, by suburban backyards, and onto our picnic locale.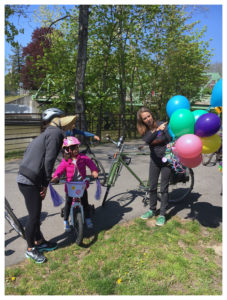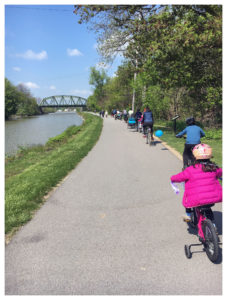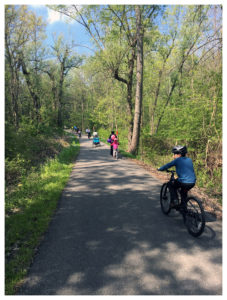 [Photos by Brad Thyroff]
We set out blankets, enjoyed yummy snacks together, threw rocks into the water and climbed the observation deck to see the lock. I had such a great time and I'm looking forward to seeing you all–and some new faces too!–at the next ride. Thanks for coming out!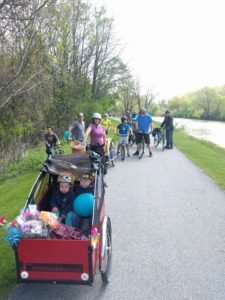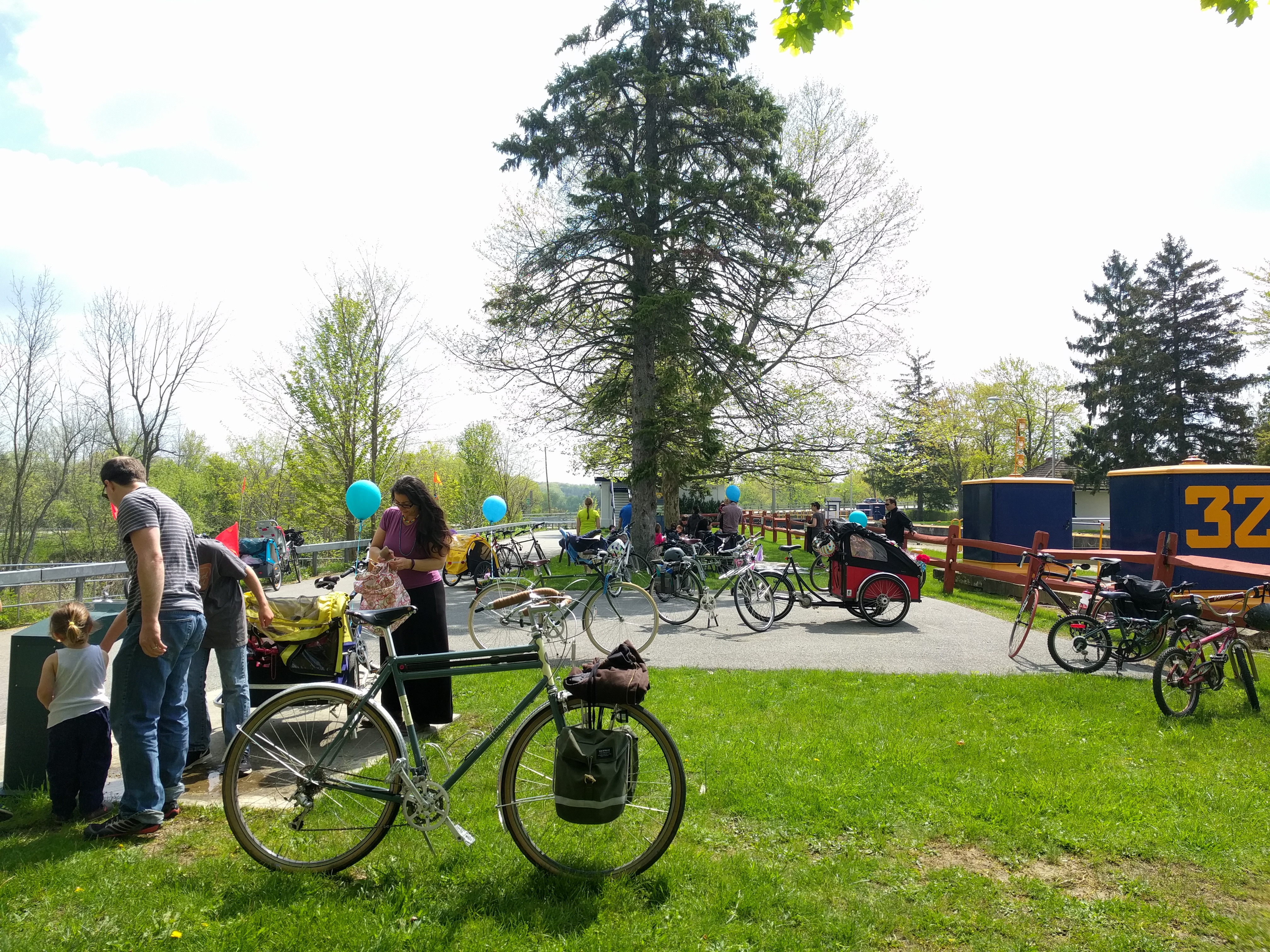 [Photos by Brooke]
-Brooke Fossey