Interested in having your school participate in Bike to School Day? Here's a quick checklist to get you started.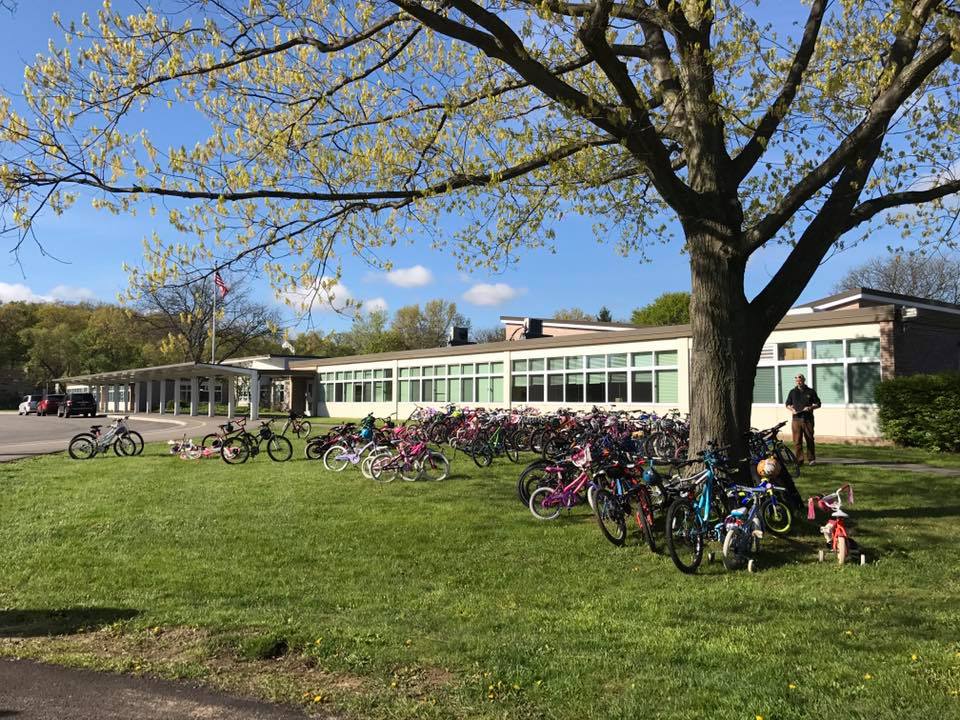 Talk to the principal of your school first

Make sure the principal is on board. You'll need to hand out permission slips, get volunteers, have a plan in place for bike parking and emergencies.
Feel free to use our Bike to School Day Proposal and edit it with your school's details
The National Walk to School Day site also has lots of downloadable materials and planning tools for you to use

 Partner with an organization like the PTSA

If you plan to register with the town/village to use community space, you will need an organization that has an insurance policy.
The PTSA is also your best source to help rally parents to participate and organize volunteers.

Alert your town/village in writing well in advance

Submit a Non Municipal Use Form (or similar forms required by your town) if you plan to use public space for a meet-up spot or group ride (must be done at least 45 days in advance)
Alert the Town Supervisor (Supervisor Smith even rode with us last year!)
Alert the Fire Marshall, Department of Public Works, Fire Department, Sheriff's Department and Volunteer Ambulance (click here for the Pittsford directory)

Register with the National Bike to School Day site
Publicize the event to alert drivers

Have the principal share in newsletters & social media
Have the PTSA include it in newsletters, alerts and meeting announcements
Ask the Town to include it in the newsletter, social media and alerts
Submit to have an announcement placed on the community billboard

Put in a community sign request at Pittsford Town Hall (find out if your town has a similar community sign)

Post to Next Door, Neighbor 2 Neighbor and social media

Come up with a plan for where bikes will be stored during school hours on Bike Day

You can see from the photo above that Jeff Road had so many bikes last year that they were parked everywhere

Plan a bike safety assembly with a trained traffic safety officer

Ideally, this would be a week or more before
Jean Triest, Traffic Safety Specialist with the Monroe County Office of Traffic Safety, provides a great bike safety presentation for kids. Watch the video from Council Rock Primary School (in Brighton) on YouTube to learn more.

Have someone coordinate with Urban-Suburban program families so they can ride from a local home/meeting spot
Make sure to include those who aren't able to bike or have special considerations 
Talk to local businesses for give-aways (not necessary, but nice to have if you have the time)
The most important tip:  Start Small and Keep It Simple
You don't have to start with a big group ride or a ticker tape parade. The idea is to get kids and parents out on their bikes riding to school. If it goes well the first year, you can grow the event.
Check out the Bike to School Day site for ideas. You can have kids ride together from various neighborhoods, have them ride from their houses, have several meeting points for group rides, one big ride…. the options are endless.
Feel free to use the our Bike Day information sheet & permission slip and tailor it to your school's event.
And let us (Renee and Brooke) know if you need some assistance! We are happy to point you in the right direction and make sure you have all the right things on your checklist!