at
Jefferson Road Elementary School
Wednesday, May 10, 2017
Mark your calendars for Bike to School Day 2018: May 9th!
On Wednesday, May 10 Jefferson Road Elementary School will join over 2,700 schools across the country and 6 others in the Rochester area to promote health, community, and safety by biking to school. Parents and their chaperones also rode with their children that day.
Parents, a permission form went home via backpack mail the second week of April. It should be returned to the front office on May 2nd. If you need a form, you can download and print the form here.
If you live near Jefferson Road Elementary School, ride from home! Practice riding from your own house or gather your neighbors for a group ride. Bike racks and friends will greet you at school. PM Kindergartners are encouraged to join the AM ride or ride to school in the afternoon.
If you live further away, or even if you don't, join the group ride! Meet up in the parking lot of the Pittsford Community Library and enjoy a group ride to Jefferson Road.
Details:
Students must be supervised by a parent/guardian until school starts at 8:30 am.

Jeff Road parents received a Bike to School Day form via backpack mail at school the second week of April. The event is sponsored by the JRE PTSA. If you did not receive a form, download it here. Forms be returned to the school front office by Tuesday, May 2nd. 

Helmets are required for all students on bicycles.

Need a helmet? Please email us and we can provide one.

For the group ride, meet at

7:45 am in the parking lot of the Pittsford Community Library, 24 State St. You are welcome to leave your car there until after you return from school.

The group ride is .7 miles. See map of route below.

Bike racks are available at Jefferson Road. Please bring a lock for your child's bike if you plan to leave it there for the school day.  
Please read and review the biking and walking safety information with your child before the event.
Don't have a bike? R Community Bikes (226 Hudson Ave) and Dream Bikes ( 1060 University Ave) are two organizations that provide used bikes and also benefit our local community.
We want this event to be inclusive. If your child has special considerations, please reach out to us. And if your family feels more comfortable walking, go for it.
Group Ride Details:
We will start at the Pittsford Community Library at 7:45AM and will ride along South Street to Jefferson Road Elementary School. The route is 0.7 mile.
We will cross South Street and E. Jefferson Road and will have adults and crossing guards at these major crossings, as well as all other side street crossings along the route to help alert drivers and help children cross safely.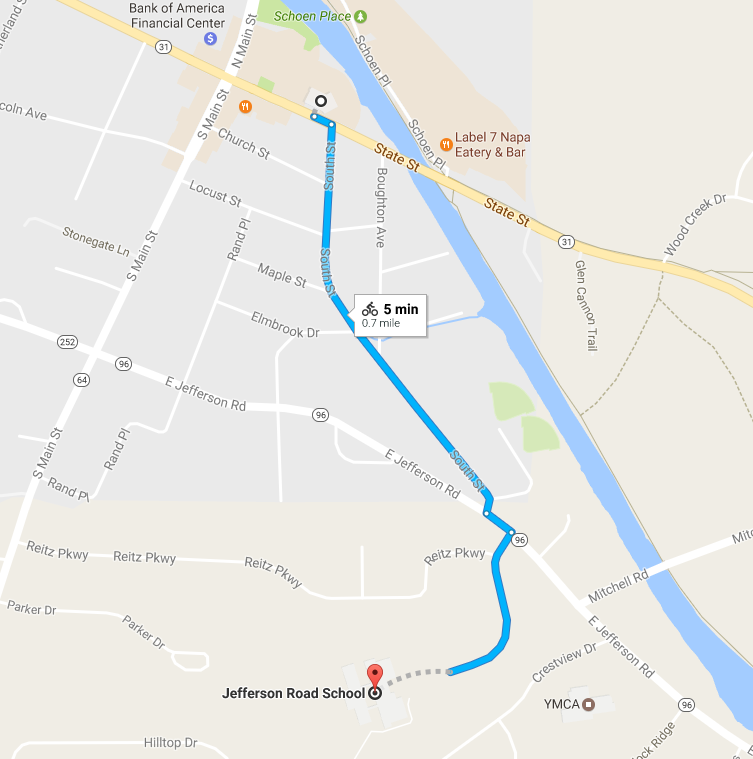 Jefferson Road is the first school to participate in Bike to School Day! We hope it inspires other schools to participate in the future! 
If your school is not officially participating, get some other parents together and bike to your school that day. It's a great way to learn more about how safe your routes to school are and encourage improvements to your streets and traffic calming efforts in your community.