If you walk frequently, you know how harrowing even a short journey on foot can be on an un-plowed sidewalk, especially after a few days of that melting/freezing cycle. And if you have lived in other places in the country where it snows, you know how rare it is to have public sidewalk plowing.
How do other parts of Rochester handle sidewalk clearing?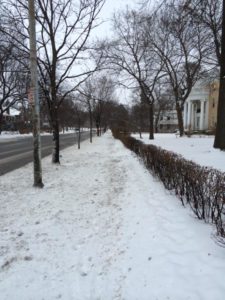 The City of Rochester is one of the few cities in the country that actually deploys plows for sidewalks, but it is a "supplemental service" to help property owners and only kicks in if there is more than 4″ accumulation during a storm. That means most people fail to shovel at all. It got so bad that Reconnect Rochester is in its second year hosting "The Great Rochester Snow Down" to raise awareness of the state of sidewalks, especially for those who can't afford or are unable to drive.

(Yes, that's an actual sidewalk buried under all that snow & ice in my old neighborhood in the picture on the right. And, yes, it IS interesting that the road is completely clear for drivers.)

The Town of Brighton plows sidewalks on major roads, but residents are responsible for their sidewalks on other streets. They formed 17 districts to have their sidewalks professionally cleared. The Town of Irondequoit deploys plows after 3″ of accumulation, but only on one side on secondary streets. Similarly, the Town of Greece plows alternate sides. The villages of Fairport and Webster also plow their village sidewalks.

Now, we can't compare the 5 miles of sidewalks our little village has to take care of to the over 800 miles the City of Rochester has to take care of. Nonetheless, I am grateful that the village prioritizes keeping its sidewalks clear. It allows those of us who walk every day to run errands, get to work or transit and for exercise to do so safely.

3 cheers for the Village sidewalk plows!

One of the things I appreciate a lot since moving to the Village of Pittsford is its sidewalk plows. This morning, when our kids walked to the bus stop at 0-dark-thirty, they had a safe path to walk and wait for the bus. Prior to moving to the village, we were out shoveling in our pajamas to make sure they could get safely to the bus. Clearing the sidewalks also assures that later in the day or evening when things get all melty and messy, pedestrians have a clear path. Those sidewalk plows rock my world.