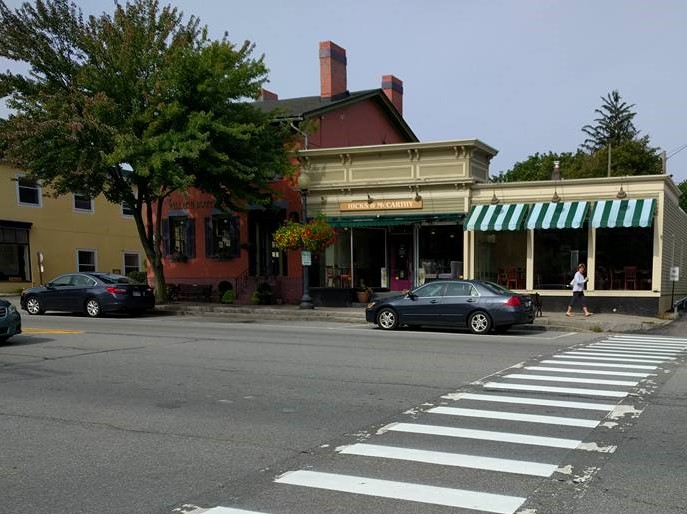 A couple years ago, the Democrat and Chronicle had a feature about "walkable" neighborhoods in the Rochester region. The author talked about why the neighborhoods were all great for walking, but missed the whole point of walkability.
It's great when people can walk for exercise in a neighborhood, but that's not what walkable is. Walkable is being able to take care of daily ammenities without the use of a car. That means being able to walk or bike to get milk and eggs, to catch a bus to go to a medical appointment, to go to restaurants and bars, run errands, etc.
[Curious about how walkable your neighorhood is?
Type in your address and get your Walk Score.]
A large number of those who choose to live in and around the village do so because there are things to bike and walk to. But, as many people articulated during the public input sessions for the joint Town and Village Comprehensive Plan, we lack daily amenities that were once here in the village. And those are the very things that make a neighborhood walkable — a corner store, hardware store and pharmacy for example. During those same sessions, residents said they wanted more options to age in place, and things for kids and teens to do on their own.
In addition to walkability, the village has something unique — historic character. That combination of historic character AND walkability makes it stand out in the crowd of cookie-cutter, stripmalled, sprawled-out places that are so common across the country. Those two assets give the Village a huge responsiblity, but also a huge opportunity.
Currently, there is some debate among residents and leadership about how and if we bring new things to the village, and whether the village should be sleepy or a destination with more things to do. If you attended the Village meeting a few weeks ago about a proposed moratorium, you know that regardless of which vision people have for the village, they all value the historic character and walkability we have. Those who want a more vibrant village don't want historic character destroyed; they welcome new things, but done the right way. And those who want a sleepy village still want to be able to safely walk to things. But they fear that new things might irreversibly destroy the character.
Of Pittsford, Pumpkins and Pharmacists. Monroe Avenue, Pittsford, New York, USA pic.twitter.com/floGjidRIQ

— Victorian Houses (@HousesVictorian) December 9, 2016
And traffic. People fear traffic. And we already HAVE traffic. There are 20,000 cars that go down my street per day. And where are those people going? To Pittsford Plaza instead of the village. I get it, it's a tricky balance. During the discussion about whether to keep the community center in the village or move it to a new car-accessible-only location, many people said "I don't want to deal with Village traffic to get to the community center." But building a new center way out somewhere new makes more traffic. Those who could walk, bike or take a bus to a central location, now have to get in their cars to go there and drive more miles. And kids who could bike/walk now have to have their parents drive them. Those who can't drive or don't have access to a car, can't go. New roads, sewage and infrastructure would have to be built and we continue to sprawl.
The more we have in the village, the stronger the local economy will be. It's damn hard to be a business in the village right now. We have lots of empty store fronts in the heart of the village. More foot and bike traffic means more business for those local stores.
The more things we have to walk and bike to, the more people will be out on the street engaging in their community. Thanks to The Lounge, for example, my friends and I can meet up regularly and don't have to flip for who will drive. On the walk there, I pass my neighbors' houses, get to enjoy the historic architecture of the neighborhood and notice things on the street I would not see if passing by at 30mph. The Panther Pit gives my kids a place to hang with their friends and we don't have to drive them there. On the walk there, they chat with our elderly neighbors — something they wouldn't do if they were in a car.
We know not everyone wants to live in or near the busy village. Not everyone wants to walk and bike to things. And historic character isn't a priority for some people. We make choices every day in where we buy, rent, shop and eat. Many of us who choose to live in or near the village do so because of it's walkability and historic character. Now we all are being asked to be a part of the conversation about the future of our village. If it is important to you, show up to meetings. Participate. Take it a step further and volunteer to be on a board or steering committee. Run for a public office, if you like that sort of thing. If you aren't able or comfortable doing that, write and call, make your opinion known and support candidates who share your values. (Complaining on social media doesn't count.)
Want to learn more about walkability in our local area? Connections with Evan Dawson had two great shows on the topic. You can listen here: