Rochester bike share program
today!  And we are giddy with excitement. Programs like the bike share and car share (which the city will be adding in the future), coupled with the bus system, give people more transportation options and reduce dependency on single occupancy private vehicles. They will help jump start our region's journey toward a more sustainable and equitable transportation network. It will help improve quality of life and the health of individuals and our communities.
How many bikes & stations are there? 
The first phase includes 340 bikes and 46 stations throughout the City, which is more stations than originally anticipated. You can also return and find a bike at the hundred of public bike racks as people start using the system. The city expects all the stations to be ready to go by next Thursday. There will also be a kick off event at the Public Market Saturday.
Is there an age requirement?
Yes, you have to be at least 18 years of age. (Hopefully that Vélib' experience will carry my kids through until they are old enough.)
Is it only in the City?
Yes, the first phase includes only the City. And that makes a ton of sense. If the system gets a lot of support, it will expand to its second and third phase station locations. Those locations were based on the feasibility study conducted a couple years ago.
Will we get stations in the Village?
We're already rallying the troops to get funds and support together to get stations along the canal, which I think would be totally awesome. The Village is in the the third phase of Zagster's plan. We need funds and riders to successfully host stations in the Village and along the canal. In the meantime, remember that Towpath Bike rents bikes! They have adult bikes, kids bikes, tandems, trailers, etc. Rental bikes will continue to be a great option for families with kids not old enough to use the bike share.
If you want the Zagster system to expand, use the system.
Don't think bike share programs is worthwhile for our area? Read this. 
How much does it cost?
Right now, it's a $1 per half hour. If you end a ride at a public bike rack instead of a Zagster station it will cost you an additional $1. No additional charge if you dock back at a station. In order to use the system currently, you will need a smartphone and a credit card for the Zagster app to locate & pay for a bike near you. The City knows those two requirements will be a hindrance to those who don't have a credit card and/or smartphone. So they are working with Zagster on a solution for those who don't have those things or can't afford the price. You have to start somewhere in order to kick off the share. So have patience. There are plans to make it accessible to those who can't afford it.
How do I become a member?
As of this morning, you can create a Zagster account. Download the app on your phone and it will walk you through how to create an account. Right now you can use the promo code "RideOnReconnect" for $5 in ride credits. It took me about 1 minute. Maybe 2 with the download time after I got distracted with making coffee.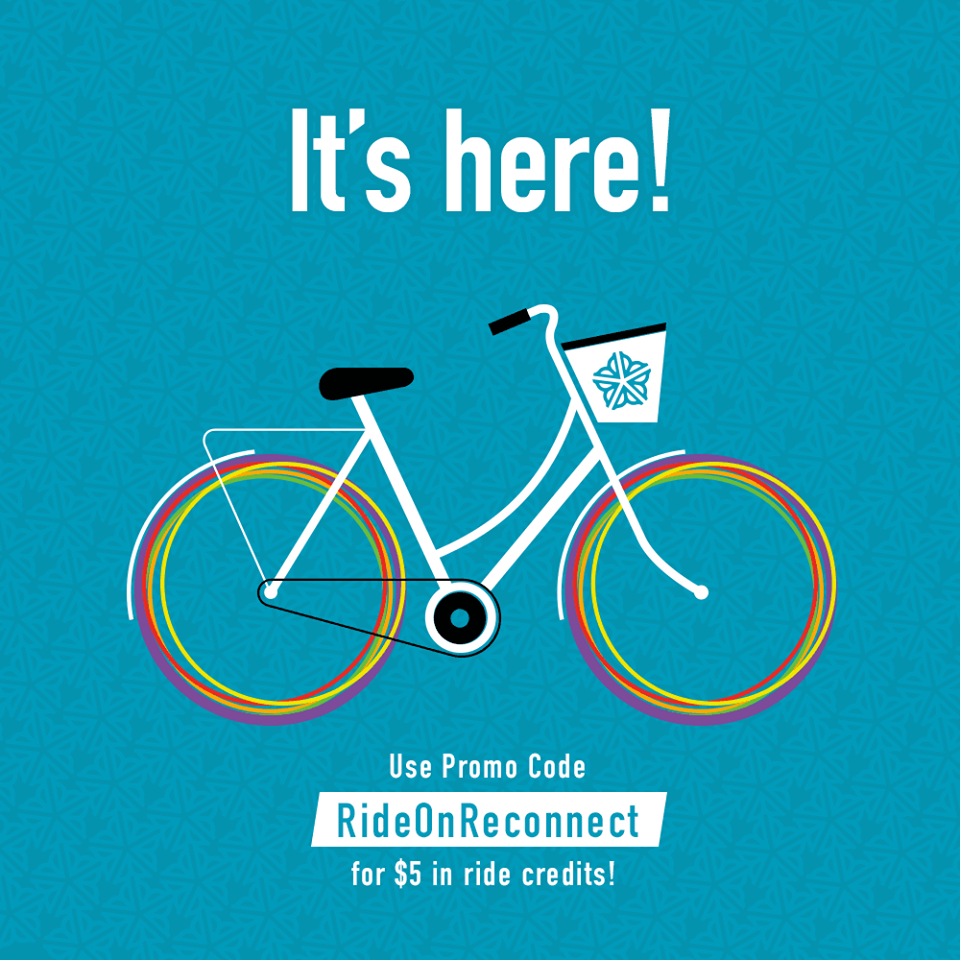 Watch this quick video from Zagster to see how to use the system:
What are you waiting for? Get out and ride 🙂

The City of Rochester & Zagster officially launched the