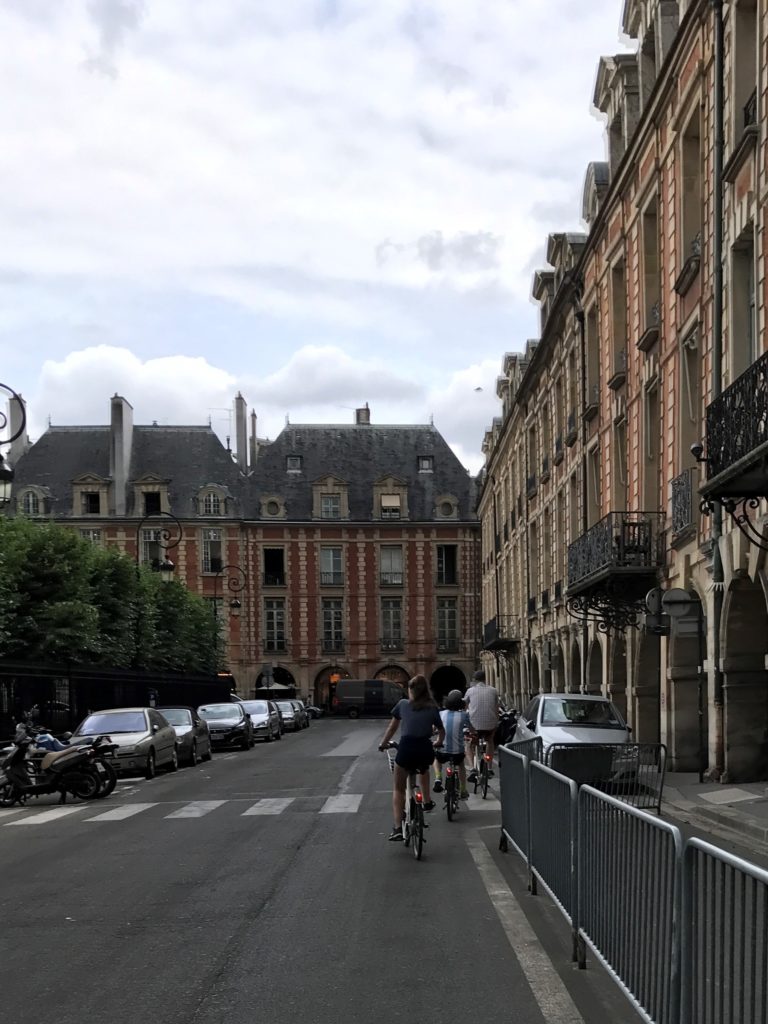 We just returned from a stay in Paris and were super excited that the city had a new addition since the last time we were there — a bike share program. Our kids were old enough to fit the bikes, so we used the system as our primary mode of transportation instead of only mass transit. In addition to using the bike share system, we did a tour with Fat Tire Bike to learn some history we couldn't get from our guide books. And biking the streets allowed us to experience the city in a whole new way. It also made me super excited about the Rochester bike share program that will be launching soon.
I know what you are thinking: "But you can't compare biking in Paris with biking here. It's Paris! They are used to people on bikes. And it's a huge tourist destination." And to that I say: Nonsense. People want to bike here. And if tourists (who don't know the city streets like residents) feel comfortable using the bike share system, we have something to learn.
And before you say: "But, Paris has always been good for biking," I'll stop you there. Paris too succumbed to the car for many decades. And residents were not comfortable biking to work or to run errands unless they were geared up for the Tour de France (see my last bullet).
So what takeaways from biking in Paris can we bring to the streets of Pittsford and Rochester? 
PEOPLE WILL BIKE IF THEY FEEL SAFE DOING SO
Many of my friends have asked if we were terrified to have our kids cycling on the streets. I will be honest, I thought through all the scenarios. I knew it was possible that any one of us could hit a cobblestone and take a tumble into traffic. And there was A LOT of traffic. Constant and steady. There were also some hairy roundabouts and areas where drivers would come into crosswalks and block pedestrians and cyclists to be able to turn right.
But we had one thing going for us: the traffic wasn't moving fast. The design even on the busier streets meant even the most aggressive drivers couldn't go very fast. I knew if there was a crash, we would get injured but not likely die.
And that's a HUGE difference from the streets around here, where we have wide, fast, four lane roads that beg for speed. A recent study revealed that dangerous traffic was the biggest reason people weren't participating in bike share programs in the US. It's the reason many parents are hesitant to ride with their families (and let their kids have independence to ride on their own) in and around the village and in the City of Rochester. The speed of traffic through the heart of our village is the reason I can't get out of my driveway on my bike to run errands and end up using the sidewalk.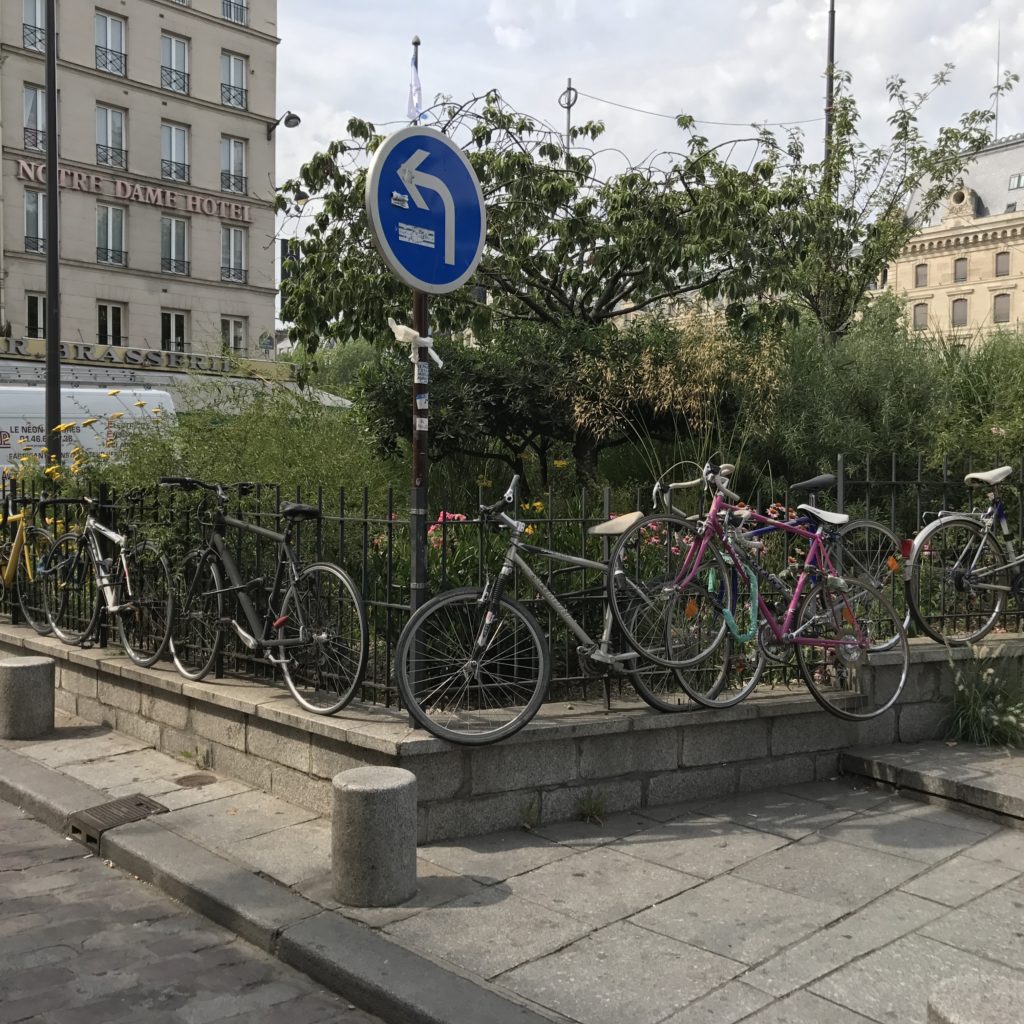 Infrastructure
After decades of prioritizing car traffic, Paris has been turning the ship to make walking and biking safe for residents and visitors. The city already had sidewalks, of course. But expecting adult cyclists and pedestrians to safely traverse sidewalks together (I'm talking to you, Pittsford) is a recipe for disaster. In 2015, the city approved a plan to vastly improve its bike infrastructure. The plan includes protected bikeways, double the number of bike lanes, advanced stop lines for bikes (so they are out of the fray of vehicles at intersections), more bike stops, and more bike parking and facilities. And the result is safer streets for everyone — including drivers.
We are lucky to have the canal path and a robust trail system in Pittsford, but the street connections to get to and from those protected areas (which you have to do if you are using a bike as transportation and not just recreation) are non-existent. There is no safe way to traverse Monroe Avenue or Jefferson Road to get to the high school or elementary school. You can't bike to the dairy without braving the ambiguous zone between you the speeding traffic. You are in traffic with no protection. There is not one bike boulevard or bike lane (protected or otherwise) to allow you to traverse the heart of the village to get to the canal path.
PEOPLE WILL BIKE IF IT'S A CONVENIENT OPTION
The bike infrastructure improvements that Paris is implementing to make it safer to bike also make biking super convenient. If you have a bike, you are good to go. If you have a bike, but don't want to lug it on mass transit for your trip to work, you can use the bike share. The city's bike share system (Vélib') launched in 2007. There are 1800 Vélib' bike stations and 24,000 bikes (all equipped with a lock and a huge basket) in the city, with a station about every .2 miles. Most Vélib' riders are locals. And you can see why — It is convenient, easy, inexpensive (first half hour is free) and available 24/7 & year-round. Get tired? Check your bike into a station and hop on a bus or train. Want to go further than your tired legs will take you? One-third of the Vélib' fleet will soon be electric. Want to bike and drive? They also have an electric car share system, Autolib'.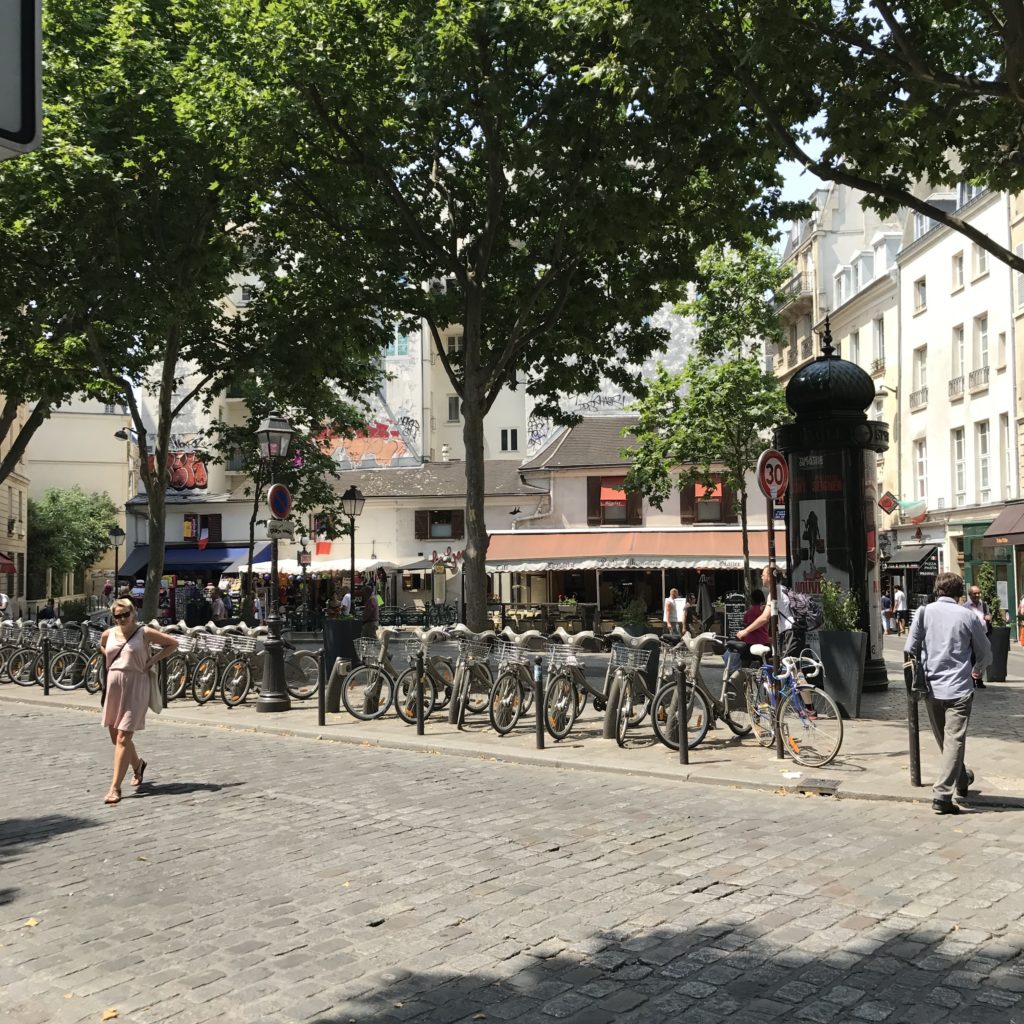 YOU CAN REVERSE DECADES OF DESIGN THINKING THAT PRIORITIZED ONLY THE CAR
Like many other cities, Paris let cars take over many of its best areas over the past few decades. And like in many cities, residents (let alone tourists) didn't feel safe biking in all that crazy traffic. All that vehicle traffic also had a terrible side effect: alarming rates of air pollution.
In addition to the bike infrastructure improvements, Paris took some bold steps to face the traffic demons. Last fall, the city approved a plan to ban cars on 2 miles of expressway on the Right Bank of the Seine. Now you can bike and walk along that stretch which previously hosted over 43,000 cars per day. (It was, by the way, not a slam dunk. Drivers weren't happy and many feared gridlock and more congestion.)
Paris instituted an anti-pollution program (called "Paris Respire" — Paris Breathes) that includes shutting down the Champs Elysees the first Sunday of the month. And with the help of the bike and auto share systems, private car use has dropped by a third.
If a huge city like Paris can take on its traffic woes and make its streets safer for people outside of a car, then surely our little village can take on its traffic demons and make our corner of the world safer and more convenient for biking, walking and using transit too.
The Village and Town are working hard to help improve the speedy, traffic-laden lives of those who live in and around here. They are attempting to calm traffic and improve infrastructure at trouble-spots identified through the Active Transportation Plan, pushing legislation to lower the village-wide speed limit, improving the current sidewalk network, etc. And we have a super engaged community who is demanding change.
The Mayor of Paris called 2017 "The Year of the Bike." Please, can Pittsford have a Year of the Bike?!