The second installment of Better Know a PIttsford Trail takes us to two of the Mitchell Trails, the Mitchell Loop, comprised of part of the Auburn Trail and part of the Erie Canalway Trail, and the Highlands Trail. These are two short loops not far from one another and we did them in less than 45 minutes by bike, hauling two kiddos and stopping to take pictures.
Mitchell Loop Trail 
Distance: ~1.5 mi
Ever been curious where those trailheads lead off of the Canal towpath? I had been too but it took the nudging of a certain adventurous four year old to haul my bike up there one day.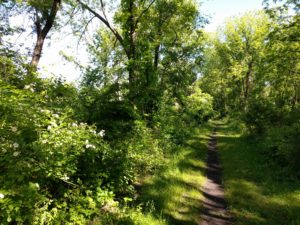 You'll come out of the woods amongst the electrical right-of-way and follow a rocky path back out to meet the Canalway Trail again.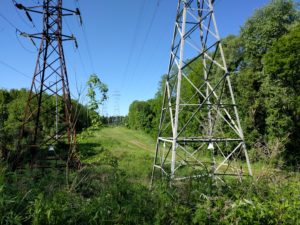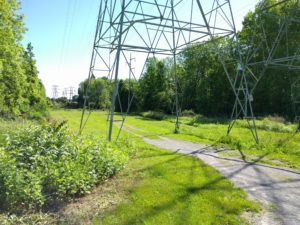 The good: This short trail is flat and would be rideable for most bikers. Mountain bikes always a plus on roots/rocks of trails, but I did it with my cruiser hauling kids. This is a nice walking/running trail and we've seen folks up there walking dogs or running occasionally, though it really feels quite secluded for being nestled between State Street and the busy towpath and we didn't see a soul while we were out this day. It feels a little like you've stumbled upon something of a secret garden along parts of the trail.
The bad: Parts would do well with a little maintenance on roots or to widen the path to wider than a footpath/one bike wheel.
Highlands Loop Trail
Distance: ~1.5 mi
Take the sidewalk out of the village heading east and you'll be on part of the Highlands Loop.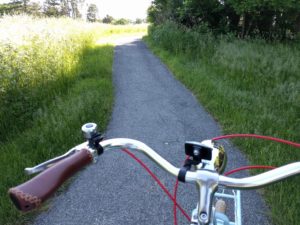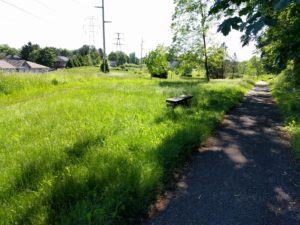 You'll cross several intersections leading into residential developments and pass a field on the way towards Marsh Road. The ride along here is not secluded and quiet, but it has a nice separation from the traffic on State St/Palmyra Rd for most of this stretch.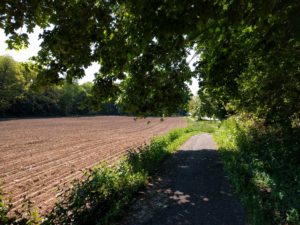 Below is an image of the crosswalks at Palmyra Rd/March Rd from the sidewalk/trail. This is particularly frustrating if you're trying to reach the Post Office by foot or bike, which I have attempted. You're forced to ride or walk out onto Marsh Road and onto the shoulder for a stretch in order to connect with this crosswalk. It would be fantastic to have a short sidewalk connecting the trail to the intersection here. Hello, Active Transportation Plan!
Round the bend on Marsh Rd and you'll see the trailhead leading back northwest. This stretch of the trail is surprisingly lovely, albeit quite rocky and root-strewn.
The trail has a crossing within the Highlands development and then passes behind homes.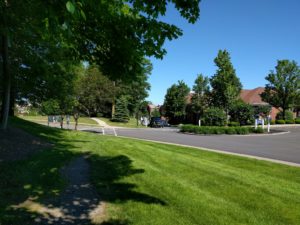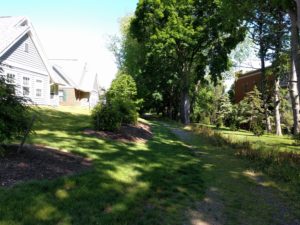 The trail loops back around to the State St sidewalk. Perhaps not the most beautiful of sights to travel right next to the power lines, but it is quiet. And that sky!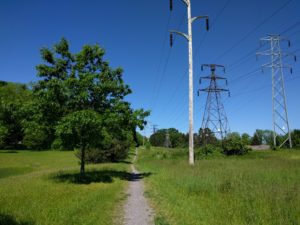 The good: This loop would make a great walking/running trail. By bike, the northern leg is a bit too rocky/root-strewn for my liking but this trail does provide a nice connection between Marsh Rd and the village that is separated from traffic.
The bad: Rocks. Roots. A sorely needed connection to the crosswalk of Palmyra/Marsh without having to walk along the shoulder of Marsh Rd with cars speeding by next to you.
All in all a lovely–and quick–adventure! In my opinion, either of these trails would make a great post-meal walk or ride and would be doable for kids that are proficient on their own two-wheels.
In these posts, we'll explore some of Pittsford's trails for walking and biking. We hope to explore nearly all of them over time, and if there's any that you'd love to see highlighted, leave a comment for us or send us an email if you'd like to do a guest post.