I am all about the utility of bicycling. We ride as our main mode of transportation whenever we can–to run errands, visit parks, haul all manner of things, and see friends. I could go on and on about my love of biking for transportation, and why I think it's so great not just for my health but for the health of my entire community. I probably will–but just not in this post!
This post is all about recreational cycling (and walking, running, and adventuring!) in Pittsford. Did you know there are nearly 80 miles of recreational and public pathways, including over 42 miles of trails and accessways and over 37 miles of sidewalks in the Town of Pittsford? This is not to say that many of these trails cannot be used for active transportation–many certainly can, and I know plenty of people who walk or bike this particular trail to Wegmans. Without further ado…
Lock 62/Auburn Trail Loop (Railroad Loop Trail)
Distance: ~5 mi
Surface: gravel, crushed stone, dirt, grass, pavement–a little bit of everything!
The good: This (mostly) peaceful trail provides a direct connection between the Village of Pittsford and both the eastern and western sides of Monroe Avenue along Pittsford Plaza. This connection allows access to shopping without driving or walking along 40 mph roads. The trail is well-maintained and sections of this trail are quite vegetated with lovely wild phlox and wild honeysuckle.
The bad: The least enjoyable portion of the trail for me was crossing at Clover and Monroe. The intersection does have crosswalks and walking signals but with fast traffic, wide roads, no shade trees, and lots of driveways to navigate, it's not the most pedestrian- or bike-friendly (or let's face it–car-friendly) environment. This trail is probably best served by a mountain bike as short sections of the trail are narrow and root-filled, but we did it with two kids on our cruisers, so it's definitely doable, perhaps with a quick hop-off-and-walk here and there.
The in-between: Two parts of this trail can be tricky to find: the trailhead at the end of a parking lot off Grove St and the connection behind the Bird House (more on that later). This trail includes two crossings of French Road, but both crossings had fairly good visibility and we had no trouble crossing. The trail is technically closed at dark. After all the rain this spring, there were a few damp sections, again probably best suited for a bike with wider tires.
It took a little searching to find the trailhead again on the west side of Monroe. It's behind the Bird House, but up a short grassy hill, almost behind the next parking lot to the right.
Here's where the trail became slightly root-filled and a bit tricky without a mountain bike or taking to foot. But follow the trail a short bit and you'll find yourself at historic Lock 62 where the trail becomes easier to navigate.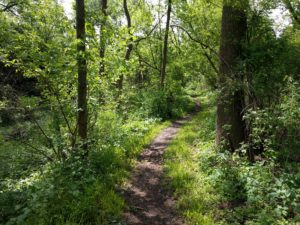 The trail follows along a wide electrical power right-of-way after crossing French Rd, and then bends towards the canal and voila, you're back on the pavement of the Erie Canal towpath. A totally doable morning adventure, and possibly my new favorite way to get to Wegmans.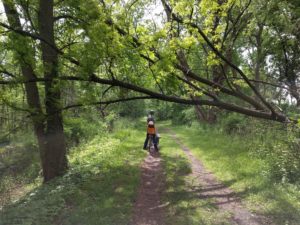 This new type of post will explore some of Pittsford's trails for walking and biking. We hope to explore nearly all of them over time, and if there's any that you'd love to see highlighted, leave a comment for us or send us an email if you'd like to do a guest post.